Friday, February 20, 2004
News from Sega today:
AOU 2004: Sega announced Virtua Fighter 4 Final Tuned, the game will be released in arcade this summer. The game will feature a Challenge Mode, which contains various missions for player to clear, player can obtain reward based on the performance in the mission. The difficulty of the missions can be selected by player. VF4 Final Tuned also features a new Ranking System, you will be given a title based on how well you performed in the game. There will be new techniques for each characters, as well as a lot of new items.
Sounds good, can I expect a PS2 port next year, at least in Japan. I can't help but wonder how many Virtua Fighter 4: subtitled games will come out before they hit 5. One thing that troubles me is that Jacky looks like David Spade, but I'm sure the gameplay will be tight: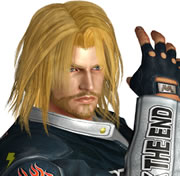 In other gaming news I dusted pysclops or whatever he's called in Maximo on my first try. Now I'm starting to notice the creeping difficulty of Maximo. It's such a great game, I hope it isn't ignored by the Madden loving masses. I'm still seriously hooked on Sengoku Musou as well. I hope that sells lots in the states.
Also news today that Koei is delaying Crimson Sea 2, part of this methinks is due to Sengoku's success. Why release another title so soon when your building a new franchise.